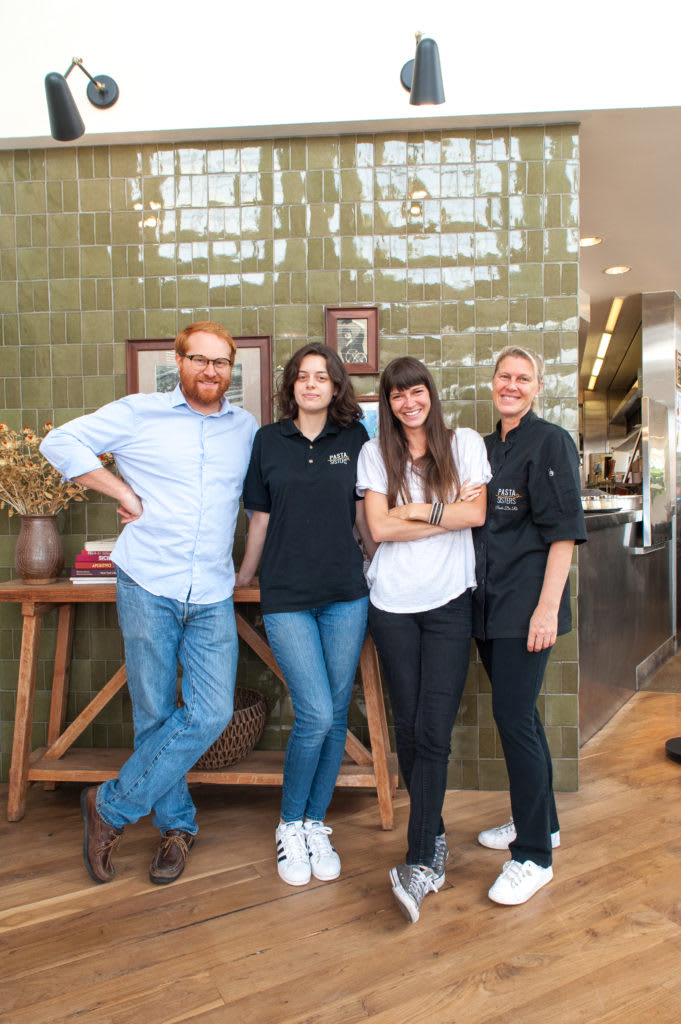 Francesco, Francesca, Giorgia and Paola, Owners of Pasta Sisters
NOTE: This is the first in a series spotlighting how local business owners are serving our community and operating during COVID-19.
Meet Giorgia Sinatra, the owner of Pasta Sisters, Mid City's fast casual Italian restaurant and fresh pasta shop with a second location in Culver City. Along with her mom, Paola Da Re, brother, Francisco Sinatra, and sister, Francesca Lico, Giorgia is keeping our community well fed with homemade Italian pastas and specialties, perfect for sheltering in place.
Pick your pasta, pick your sauce, choose from a variety of meats, fish and sides, and dinner is served. Don't feel like dinner tonight? Order homemade dry pasta and pre-packaged sauces for a future meal. It's an authentic taste of Italy in our own backyard.
MCBL: What specials are you offering during shelter in place?
Sinatra: Our entire regular menu is available for pick up or delivery. We also have a weekly special. Next week, try our seafood special with clams and shrimp in a light, spicy tomato sauce—a favorite at our Mid City location.
We make all of our own pasta, including spaghetti, tagliatelle and pappardelle. We also have homemade gnocchi. We've added our on-shelf retail products and deli case items, including fresh cheeses and cold cuts, to our web site for order. Go to the deli section for more info. We're also very excited to add real, Italian style gelato to the to-go menu. Know that we can accommodate custom and special orders for larger quantities, if you call ahead.
The Seafood Special
MCBL: What are some of your favorites?
Sinatra: Tagliatelle Bolognese. Pesto. Lasagna. Our homemade gnocchi are probably one of the oldest recipes—we use my great grandmother's recipe—and they are delicious with every sauce. My mother's favorite dish is the eggplant parmigiana that is currently off the menu because of the lock down, but as soon as we will be able to open for dine-in again, it will be a must try. My mom only makes it in spring and summer when the eggplants are in season. One of the most popular dishes is the pasta topped with burrata cheese. You can choose between tomato and basil, arrabbiata, pesto or Bolognese and add the burrata cheese. And for dessert: TIRAMISU!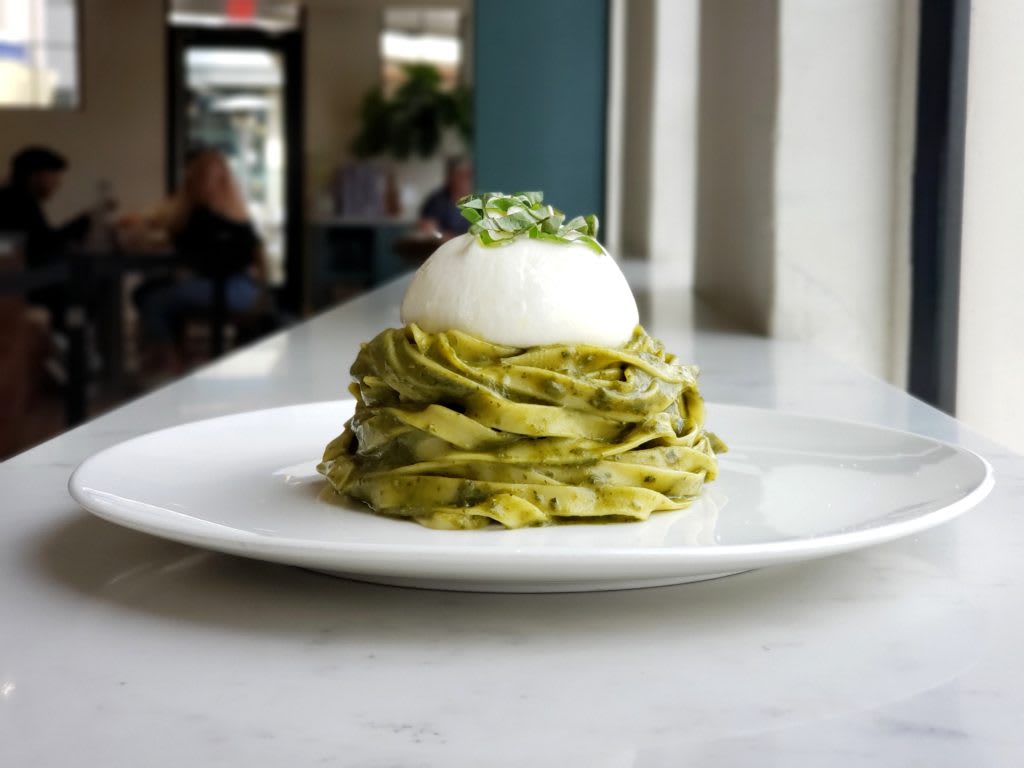 Pesto Burrata
MCBL: How can customers order?
Sinatra: Online orders can be made through ChowNow, delivery via Postmates, or you can call us for pick up orders. Our web site is
pastasisters.com
. To learn more about how we're handling COVID-19, you can visit:
pastasisters.com
MCBL: What are your hours?
Sinatra: We're open Monday through Friday 11:30am until 8:30pm in Mid City. Sundays we're closed. Culver City is open 11:30am until 9pm daily, which is earlier than previous hours.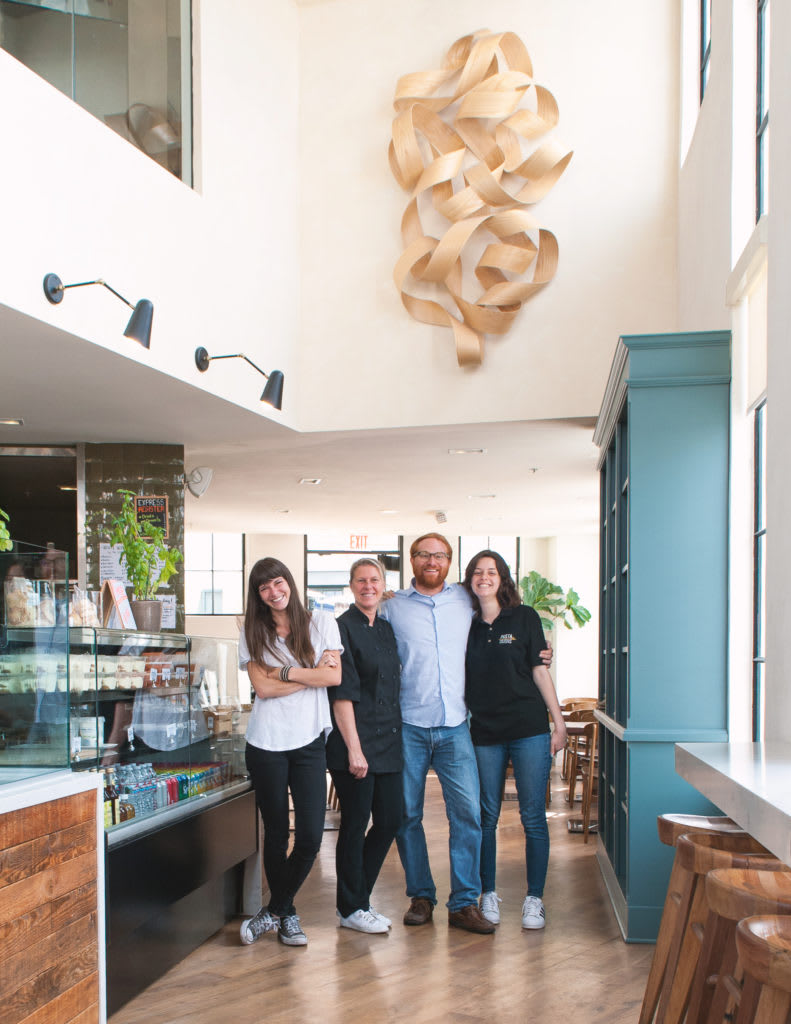 MCBL: Are you from LA?
Sinatra: We are all from Padova, Italy, a small town about 30 minutes from Venice. My brother moved to LA 11 years ago, then my mom 9 years ago, and I was the last one 8 years ago. We really like it. We opened our Mid City restaurant on Pico in 2016, and then our Culver City location in 2018.
MCBL: Do you live in Mid City?
Sinatra: When we opened the Pico Boulevard location, we lived a few blocks away. That's why we opened in the area. We did not plan anything. We just wanted to open a little Italian deli and wanted to stay local. My mom still lives in that area. My brother lives closer to the Culver City location, and I live in Hollywood now.
MCBL: What do you love about LA? Your neighborhood?
Sinatra: When we moved the the U.S., it was a big change from our small town in Italy. My brother moved near Koreatown because my sister-in-law is Korean and felt close to that community. My mom and I felt that was also the place for us. In Italy, everyone is close to each other and near family. We love the area.
MCBL: Are there other restaurants, businesses, neighborhood favorites of yours that you would recommend to our readers?
Sinatra: When we arrived, we were looking at other little stores. We were actually looking for mozzarella and discovered Papa Cristo's Greek Grill. We walked in and knew we were in the right place. We met him, and he really helped us open our first store. He's given good advice, taught us about this community, taught us big lessons and has made us feel right at home. We love their falafel with the tzatziki sauce and the gyro pita sandwich. Their homemade yogurt with the fig jam is really special. Also, at the market, they have really good shelf products that make us feel at home.
MCBL: What's helping you get through COVID-19?
Sinatra: This has been really hard because we are on the front lines every day, and we're concerned about the health and safety of our employees. In Italy, food always helps us. It's an Italian thing. I'm really in quarantine because I'm pregnant. My mom and aunt have been bringing me so much food, dropping it off once or twice a week. They've brought a lot of different cakes.
We're trying to do our best and make things better every day. Our employees are doing a great job. We're feeling our Pasta Sisters family right now. Our employees are really part of our family, and our family keeps getting bigger. We're all helping each other, and we're trying our best to be strong and patient.
Culver City Location: 3280 Helms Ave. Culver City, CA 90232. Phone:
(424) 603-4503
. Open daily 11:30am to 9pm.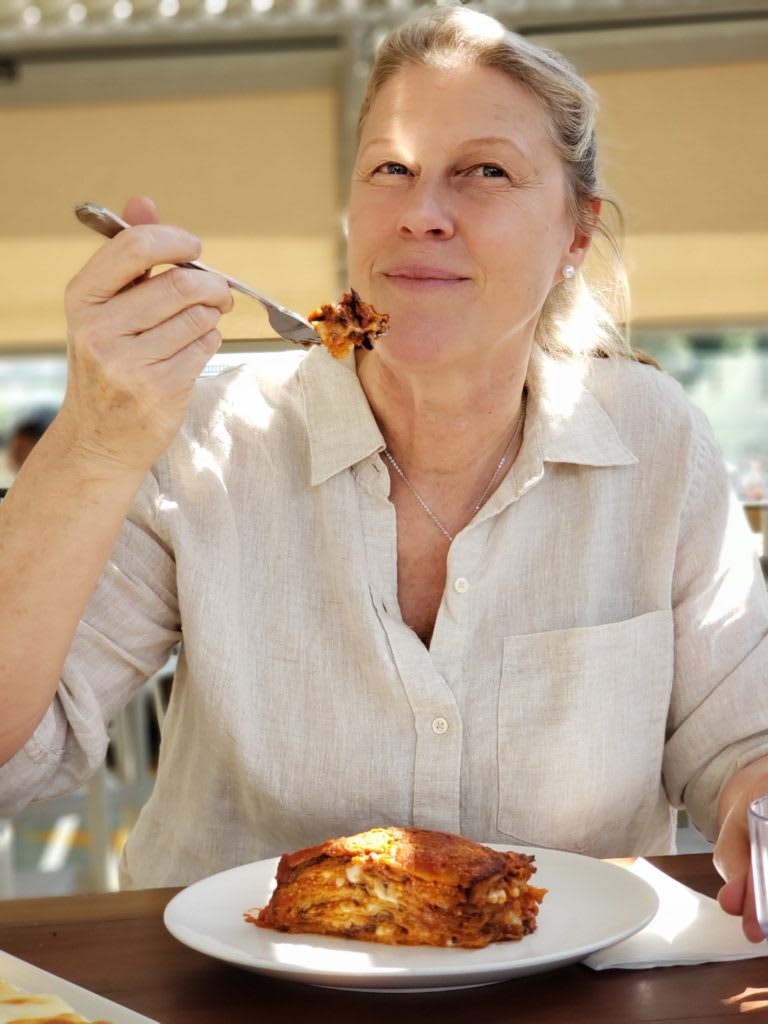 Paola Da Re, Executive Chef and Giorgia's Mother