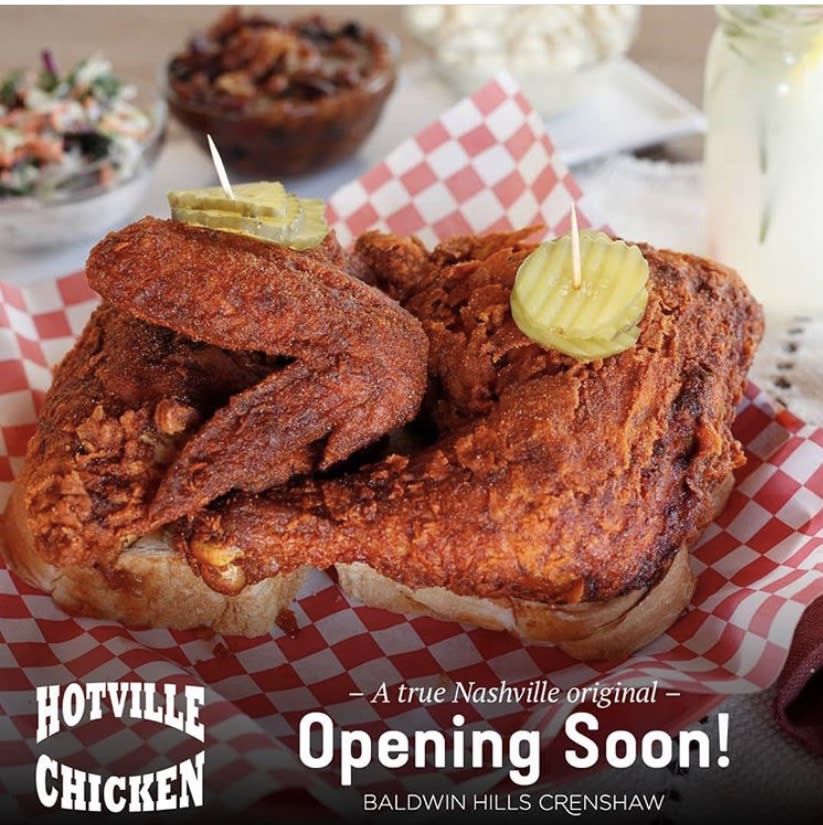 Our friends over at Baldwin Hills Crenshaw Plaza have informed us that Nashville's own
Hotville Chicken
is opening soon, VERY soon. Eater LA had the opening date slated for November 2019, so we've got to be close.
After numerous pop ups in the LA area, Hotville will now have a permanent spot at the former location of Michelle's Country Diner and adjacent to
Post & Beam
. Per
Eater LA
, Hotville Chicken is run by an actual member of the Prince family, which started the hot chicken craze in Nashville 85 years ago. Owner Kim Prince is related to James Thornton Prince, who launched Nashville's
Hot Chicken Shack
back in 1945.
Eater also announced that Prince has partnered with her mentor Gregory Dulan, owner of the legendary
Dulan's Soul Food
, a neighborhood staple, to help run the business. For the full story, click
here
.
The menu talks up a "Whole Lotta Hot Chicken," kaleslaw, mac & smoking' cheese, BBQ baked bean trio, endless buckets of pickles and bread and to wrap it up, key lime pie and pound cake. We're ALL in.
We'll be counting the days until opening, but if you hear anything, let us know!
4070 Marlton Ave. LA, CA 90008